Accomodation in Bieszczady
In our offer you will find two new 8-bed houses in the Bieszczady Mountains. The houses are located near the Solińskie Lake in Orelec. The cottages were made in a a high standard. Each cottage is equipped with:
3 bedrooms
bathroom with cabin shower
Fully equipped kitchen with fridge and gas cooker to prepare meals
The cottage has Tv, radio with cd, living room, terrace
BBQ facilities at each cottage
parking place
playground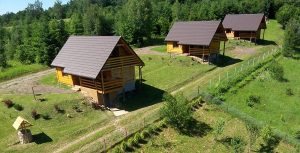 We are offering you transfer from and to an airport Rzeszow (1,5h)
Everyday atraction to your choice (with your private driver)
You can also rent a car on an airport or use your one
the price depend on the number of people and the lenghts of stay
We arrange the date and price with you by phone or an email
If tou would like to ask anything you can call to nr (+48) 721-840-838
We invite you in our picturesque region, where mountain peaks drown in the mirror of the solinski lake, and people appreciate comfort and tranquility away from the hustle of big cities and crowded tourist destinations. Bo Piszkówka is an ideal starting point for tourists on a daily basis, a place where we can rest after a day full of Bieszczady attractions.
See also what you can see and see in the Bieszczady Mountains.