Home
Holiday at Solina lake – year-round accommodation in Bieszczady.
We invite you to 8 private, fully equipped cottages for rent located in the picturesque village of Orelec near Solina Lake.
It's an ideal accommodation, easily accessible in every corner of the Bieszczady Mountains.
A dream stop for the nearby Lake Solina and mountain lovers or those who simply want to escape the hustle and bustle of the city.
The houses are located on a hill directly next to the forest. The preserved distance between the houses gives you peace, quiet and freedom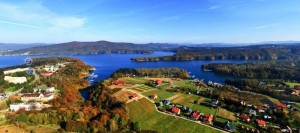 In front of each cottage there is a parking place and barbecue.